Reducción del Riesgo en Equipos Biomédicos y en Instalaciones Eléctricas de Entornos Clínicos
M. Arregui

Universidad de la República

N. Alfaro

Universidad de la República

M. Baldizzoni

Institución Fondo Nacional de Recursos

I. Wald

Universidad de la República

R. Gambogi

Universidad de la República

A. Ferreira

Universidad de la República

F. Simini

Institución Fondo Nacional de Recursos
Abstract
Se analizan 112 auditorías de instalaciones eléctricas y seguridad de equipos biomédicos en 78 Institutos de Medicina Altamente Especializada (IMAE) del Uruguay, realizadas a lo largo de 14 años, clasificando el nivel de riesgo y de cumplimiento de normas desde el punto de vista de Ingeniería Clínica. Cada visita incluye una encuesta al personal encargado de mantener y gestionar la infraestructura eléctrica y el equipamiento biomédico, que abarca el estado de mantenimiento, el control y la documentación de las instalaciones eléctricas y del equipamiento biomédico. Se evalúa el riesgo con un puntaje de 0 a 4. En 2004-2007 el 74% de los IMAE tenía irregularidades en la instalación eléctrica, gestión de equipamiento, control de calidad o documentación. Además, un 15% de los que tenían problemas, tenía en particular equipamiento indicado como "equipo peligroso". En los períodos siguientes esta proporción baja paulatinamente hasta 0% en 2016-2017. No obstante, continúa existiendo un déficit en la gestión del equipamiento y en la documentación formal. El aporte de la Universidad en el seguimiento técnico de los IMAE se ha materializado en una mejora en materia de seguridad.
Downloads
Download data is not yet available.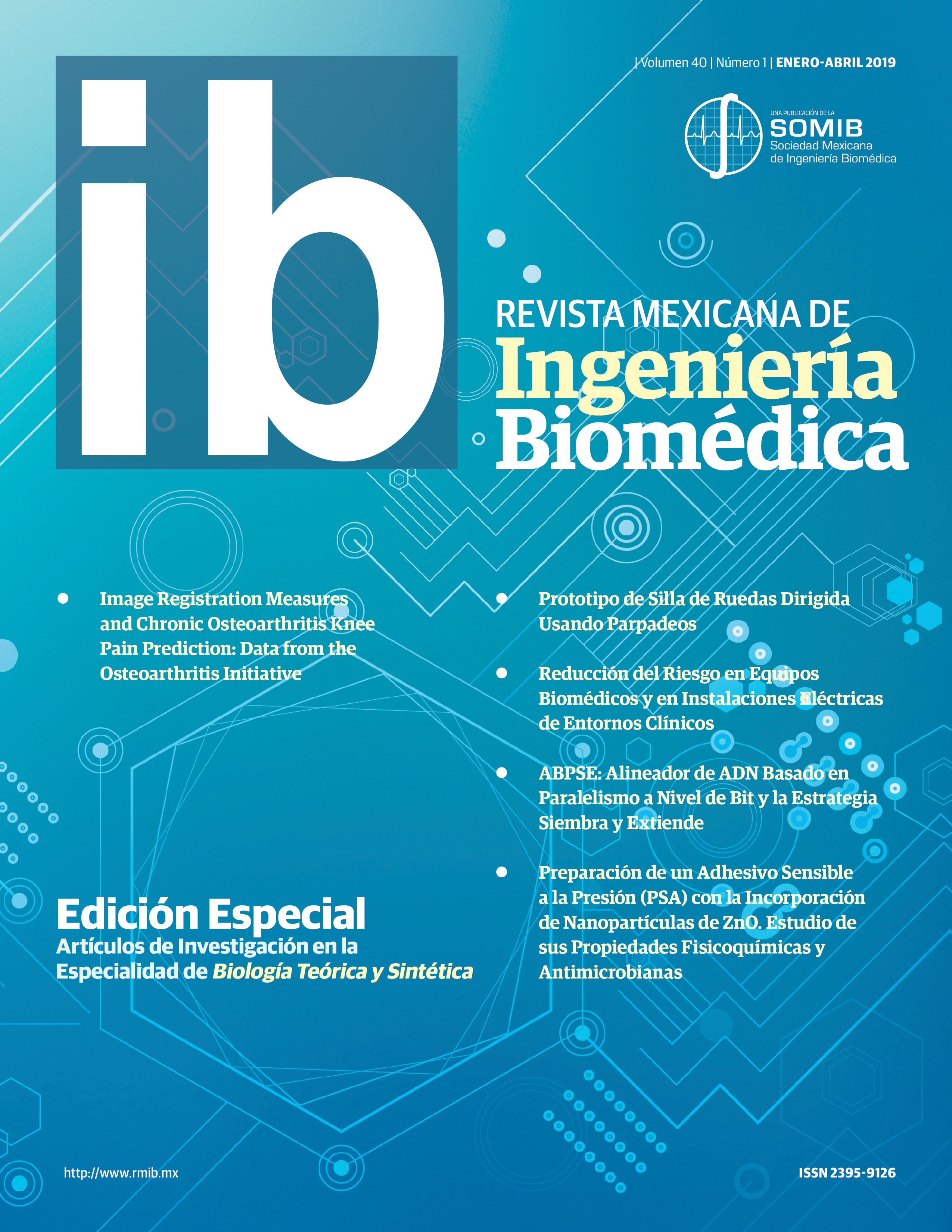 How to Cite
Arregui, M., Alfaro, N., Baldizzoni, M., Wald, I., Gambogi, R., Ferreira, A., & Simini, F. (2018). Reducción del Riesgo en Equipos Biomédicos y en Instalaciones Eléctricas de Entornos Clínicos. Mexican Journal of Biomedical Engineering, 40(1), 1-13. https://doi.org/10.17488/RMIB.40.1.3
Section
Research Articles
Upon acceptance of an article in the RMIB, corresponding authors will be asked to fulfill and sign the copyright and the journal publishing agreement, which will allow the RMIB authorization to publish this document in any media without limitations and without any cost. Authors may reuse parts of the paper in other documents and reproduce part or all of it for their personal use as long as a bibliographic reference is made to the RMIB and a copy of the reference is sent. However written permission of the Publisher is required for resale or distribution outside the corresponding author institution and for all other derivative works, including compilations and translations.