Respiratory rate detection by a time-based measurement system
E. Sifuentes

Departamento de Ingeniería Eléctrica y Computación, Universidad Autónoma de Ciudad Juárez, Chihuahua-México

J. Cota-Ruiz

Departamento de Ingeniería Eléctrica y Computación, Universidad Autónoma de Ciudad Juárez, Chihuahua-México

R. Gonzalez-Landaeta

Departamento de Ingeniería Eléctrica y Computación, Universidad Autónoma de Ciudad Juárez, Chihuahua-México
Keywords:
time-based measurements, Wheatstone bridge sensors, respiratory rate, temperature
Abstract
This paper proposes a system that converts a time-modulated signal from a resistive sensor into a digital signal with the goal to estimate the respiratory rate of a subject. To detect breathing, a known method based on a nasal thermistor, which detects temperature changes near the nostrils, is used. In this work, the thermistor mounted in a Wheatstone bridge, forms a RC circuit which is connected directly to a microcontroller, without using any analog circuit or analog-digital converter. Thus, whenever the subject breathes, it causes a fractional change in resistance x (Δ R/R0) on the thermistor, and this produces a time-modulated signal that is directly digitized with the microcontroller. Measurements were made on 23 volunteers, obtaining changes of x > 0.01. The temperature resolution was 0.2 °C, and the time response was 0.8 s, mainly limited by the thermistor properties; these features were enough to obtain a well-defined waveform of the breathing, from which was easy to estimate the respiratory rate by a compact, low cost and low power consumption system. Unlike interface circuits based on the voltage or current amplitude, with this kind of interface, the self-heating of the sensor is avoided since the thermistor does not require any voltage or bias current.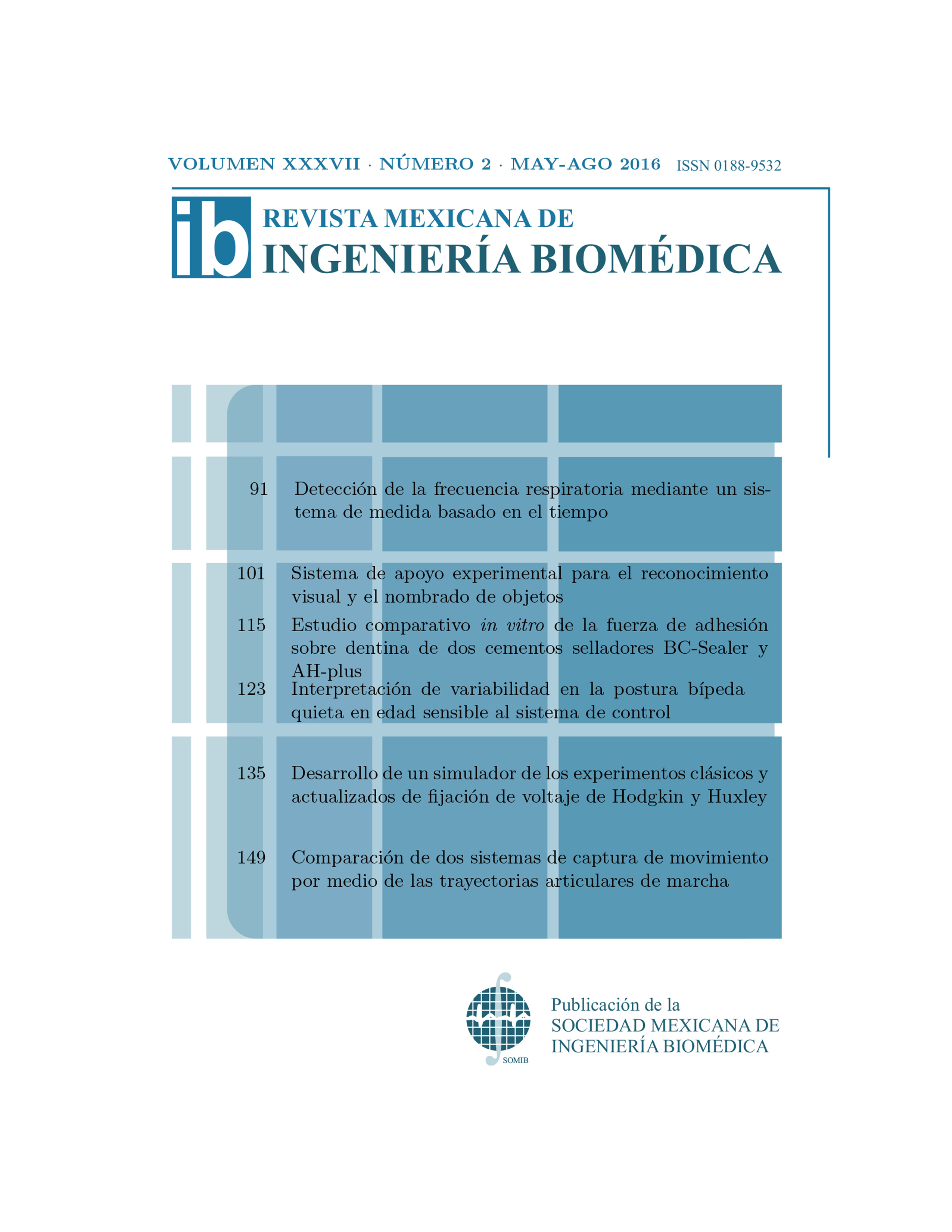 How to Cite
Sifuentes, E., Cota-Ruiz, J., & Gonzalez-Landaeta, R. (2016). Respiratory rate detection by a time-based measurement system. Mexican Journal of Biomedical Engineering, 37(2), 91-99. https://doi.org/10.17488/RMIB.37.2.3
Section
Research Articles
Copyright (c) 2016 Revista Mexicana de Ingeniería Biomédica - RMIB
This work is licensed under a Creative Commons Attribution 4.0 International License.
Upon acceptance of an article in the RMIB, corresponding authors will be asked to fulfill and sign the copyright and the journal publishing agreement, which will allow the RMIB authorization to publish this document in any media without limitations and without any cost. Authors may reuse parts of the paper in other documents and reproduce part or all of it for their personal use as long as a bibliographic reference is made to the RMIB and a copy of the reference is sent. However written permission of the Publisher is required for resale or distribution outside the corresponding author institution and for all other derivative works, including compilations and translations.