Preparación de un Adhesivo Sensible a la Presión (PSA) con la Incorporación de Nanopartículas de ZnO. Estudio de sus Propiedades Fisicoquímicas y Antimicrobianas
S. N. Ramírez-Barrón

Centro de Investigación de Química Aplicada

S. Sánchez-Valdés

Centro de Investigación de Química Aplicada

B. A. Puente-Urbina

Centro de Investigación de Química Aplicada

S. Martínez-Montemayor

Centro de Investigación de Química Aplicada

S. C. Esparza-González

Universidad Autónoma de Coahuila

R. Betancourt-Galindo

Centro de Investigación de Química Aplicada

http://orcid.org/0000-0003-2550-2093
Abstract
Se describe el proceso para obtener un adhesivo sensible a la presión (PSA). Este PSA está formado por un copolímero de acrilato de 2-etilhexil (2-EHA) / metacrilato de metilo (MMA) en una relación 80:20 que se polimerizó mediante una técnica de polimerización en emulsión. Se añadieron nanopartículas de óxido de zinc (NPZnO) a este copolímero, que se sintetizaron previamente y se modificaron superficialmente con 3-aminopropil-3-toxisilano (APTES) y dimetilsulfóxido (DMSO) para mejorar su dispersión en la matriz de copolímero. Los nanocompuestos obtenidos se caracterizaron por espectroscopía infrarroja (FTIR), calorimetría diferencial de barrido (DSC) y pruebas de adhesión al pelado. Además, se determinó la actividad antimicrobiana contra S. aureus y S. pyogenes, así como la citotoxicidad en células humanas (HeLa). Los resultados demostraron que la adición de las nanopartículas de ZnO al copolímero incrementa la temperatura de transición vítrea (Tg) así como las propiedades antimicrobianas del adhesivo mejorando a su vez su adhesión superficial. Con respecto al comportamiento adhesivo, el PSA con NPZnO sin modificar mostró una mayor resistencia al delaminado, esto quiere decir que las nanopartículas incrementan la fuerza cohesiva y proporcionan resistencia a temperaturas elevadas, lo cual sería beneficioso a su aplicación final. Finalmente, los resultados de citotoxicidad mostraron que la incorporación de NPZnO al PSA disminuye la viabilidad celular, sin embargo no se considera tóxico acorde a la norma ISO 10993 test for in vitro cytotoxicity.
Downloads
Download data is not yet available.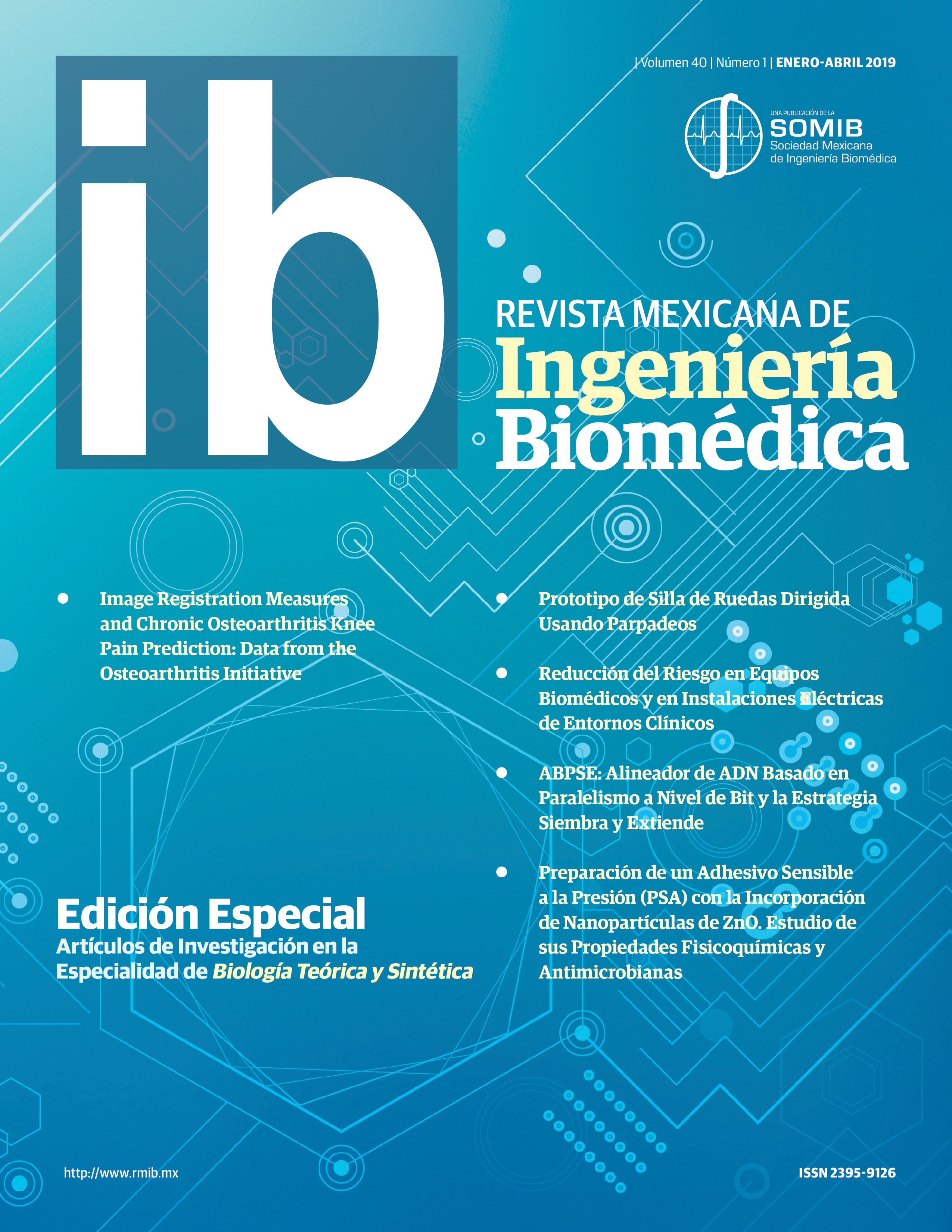 How to Cite
Ramírez-Barrón, S. N., Sánchez-Valdés, S., Puente-Urbina, B. A., Martínez-Montemayor, S., Esparza-González, S. C., & Betancourt-Galindo, R. (2018). Preparación de un Adhesivo Sensible a la Presión (PSA) con la Incorporación de Nanopartículas de ZnO. Estudio de sus Propiedades Fisicoquímicas y Antimicrobianas. Mexican Journal of Biomedical Engineering, 40(1), 1-10. Retrieved from http://www.rmib.mx/index.php/rmib/article/view/904
Section
Research Articles
Upon acceptance of an article in the RMIB, corresponding authors will be asked to fulfill and sign the copyright and the journal publishing agreement, which will allow the RMIB authorization to publish this document in any media without limitations and without any cost. Authors may reuse parts of the paper in other documents and reproduce part or all of it for their personal use as long as a bibliographic reference is made to the RMIB and a copy of the reference is sent. However written permission of the Publisher is required for resale or distribution outside the corresponding author institution and for all other derivative works, including compilations and translations.