ABPSE: Alineador de ADN Basado en Paralelismo a Nivel de Bit y la Estrategia Siembra y Extiende
Abstract
La alineación de ADN es un proceso clave para la reconstrucción de genomas, a partir de los millones de lecturas cortas producidas por las máquinas de secuenciación paralela masiva. Tal proceso suele realizarse mediante algoritmos con elevada complejidad espacial y temporal, requiriendo varias horas para entregar los resultados, así como decenas de GB de RAM. Esto ha motivado la búsqueda de nuevos algoritmos y/o estrategias que permitan disminuir los tiempos de ejecución, mientras se utilizan recursos mínimos de memoria. En este artículo se presenta ABPSE, un nuevo alineador de ADN que combina el algoritmo de Ferragina y Manzini (o índices de FM) y el algoritmo de Myers, mediante la estrategia siembra y extiende. En la siembra, los índices de FM permiten calcular de manera rápida regiones con alta probabilidad de alineación; mientras que en la extensión, el algoritmo de Myers refina la alineación utilizando operaciones basadas en vectores de bits, calculando simultáneamente varias celdas de la matriz de programación dinámica. Los resultados muestran un 96.1% de lecturas alineadas correctamente, un factor de aceleración de 2.45x en relación a BWA-SW y un uso de memoria de apenas 7.6 GB, cuando se alinea el genoma humano completo.
Downloads
Download data is not yet available.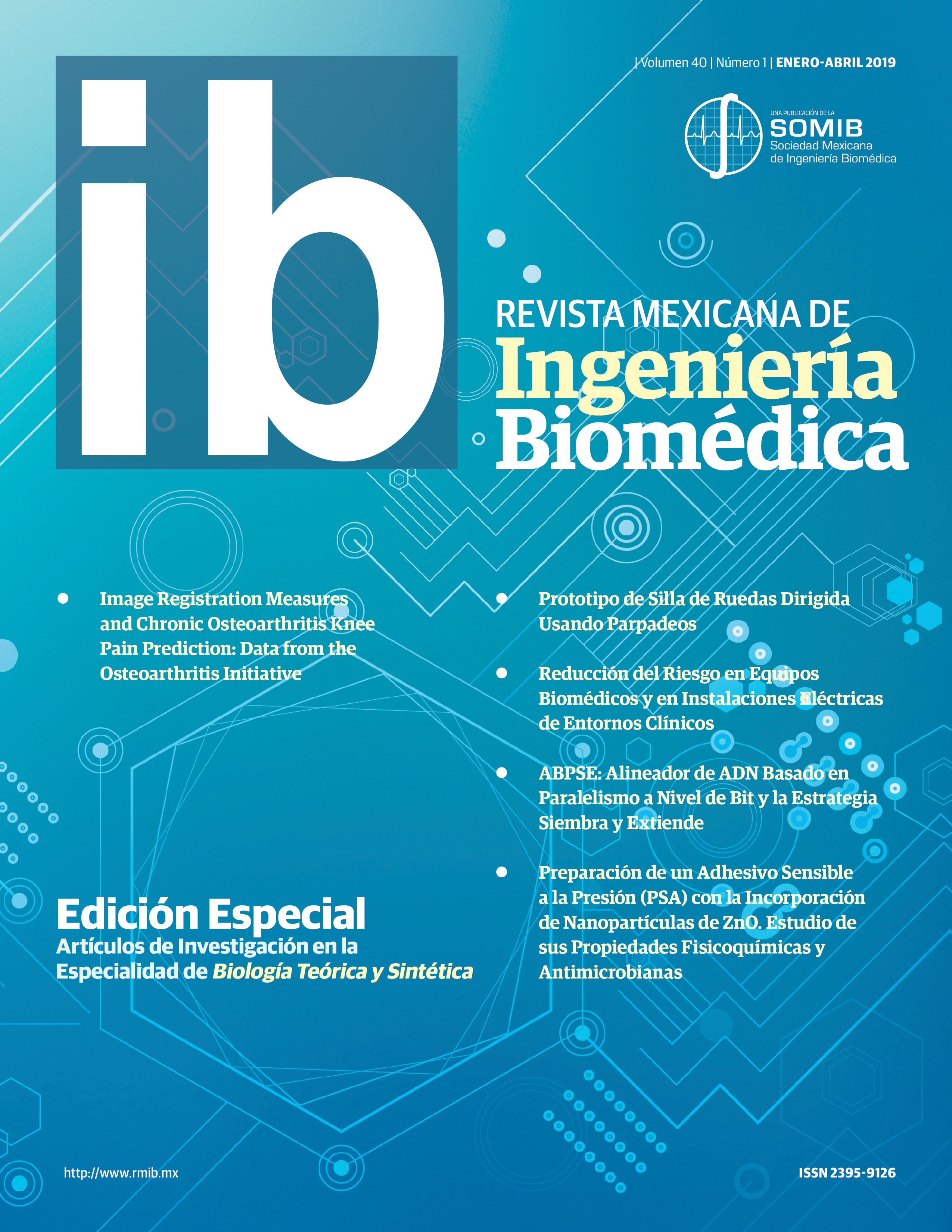 How to Cite
Pacheco-Bautista, D., Martínez-Oviedo, J., Carreño-Aguilera, R., Algredo-Badillo, I., & Sánchez-Sánchez, S. (2018). ABPSE: Alineador de ADN Basado en Paralelismo a Nivel de Bit y la Estrategia Siembra y Extiende. Mexican Journal of Biomedical Engineering, 40(1), 1-13. Retrieved from http://www.rmib.mx/index.php/rmib/article/view/903
Section
Research Articles
Upon acceptance of an article in the RMIB, corresponding authors will be asked to fulfill and sign the copyright and the journal publishing agreement, which will allow the RMIB authorization to publish this document in any media without limitations and without any cost. Authors may reuse parts of the paper in other documents and reproduce part or all of it for their personal use as long as a bibliographic reference is made to the RMIB and a copy of the reference is sent. However written permission of the Publisher is required for resale or distribution outside the corresponding author institution and for all other derivative works, including compilations and translations.