Comparative in vitro study of the bond strength on dentin of two sealing cements: BC-SEALER and AH-PLUS
A. Carrillo Varguez

Facultad de Odontología, Universidad Autónoma de Baja California, Tijuana, México

B. I. Santana Basoco

Facultad de Odontología, Universidad Autónoma de Baja California, Tijuana, México

B. González Vizcarra

Escuela de Ciencias de la Ingeniería y Tecnología, Universidad Autónoma de Baja California, Tijuana, México

L. J. Villarreal Gómez

Escuela de Ciencias de la Ingeniería y Tecnología, Universidad Autónoma de Baja California, Tijuana, México. Facultad de Ciencias Químicas e Ingeniería, Universidad Autónoma de Baja California, Tijuana, México

D. Jaramillo Fernández

University of Texas Health Science Center at Houston (UTHealth), Texas, United States.

N. Rentería Aguilera

Facultad de Odontología, Universidad Autónoma de Baja California, Tijuana, México

M. E. Hofmann Salcedo

Facultad de Odontología, Universidad Autónoma de Baja California, Tijuana, México
Keywords:
bond strength, comparative study, sealing cements
Abstract
Gutta-percha with a sealer cement has been used for many years as a fill for root canal therapies, new materials and techniques have been recently developed that could increase the success rate of endodontic treatments. It is important to compare materials that are used today, with those that are coming to the market, which possesses considerable advantages that may well increase the rate of successful treatments. The purpose of this research is to evaluate the adhesion properties of a new bioceramic sealer: EndoSequence® BC SealerTM using BC Points. For this, the following techniques were used: Single cone obturation and lateral condensation with AH-Plus. The results demonstrated differences between the groups of AH-Plus and BC-Sealer. On the bond strength that was applied in the different thirds of the root canal, the sealer cement BC-Sealer proved to be the best adhesion material in all thirds of the root canal being significantly more noticeable in the apical third. The two sealants are effective root canal adhesives, used properly, any of there may grant an acceptable result.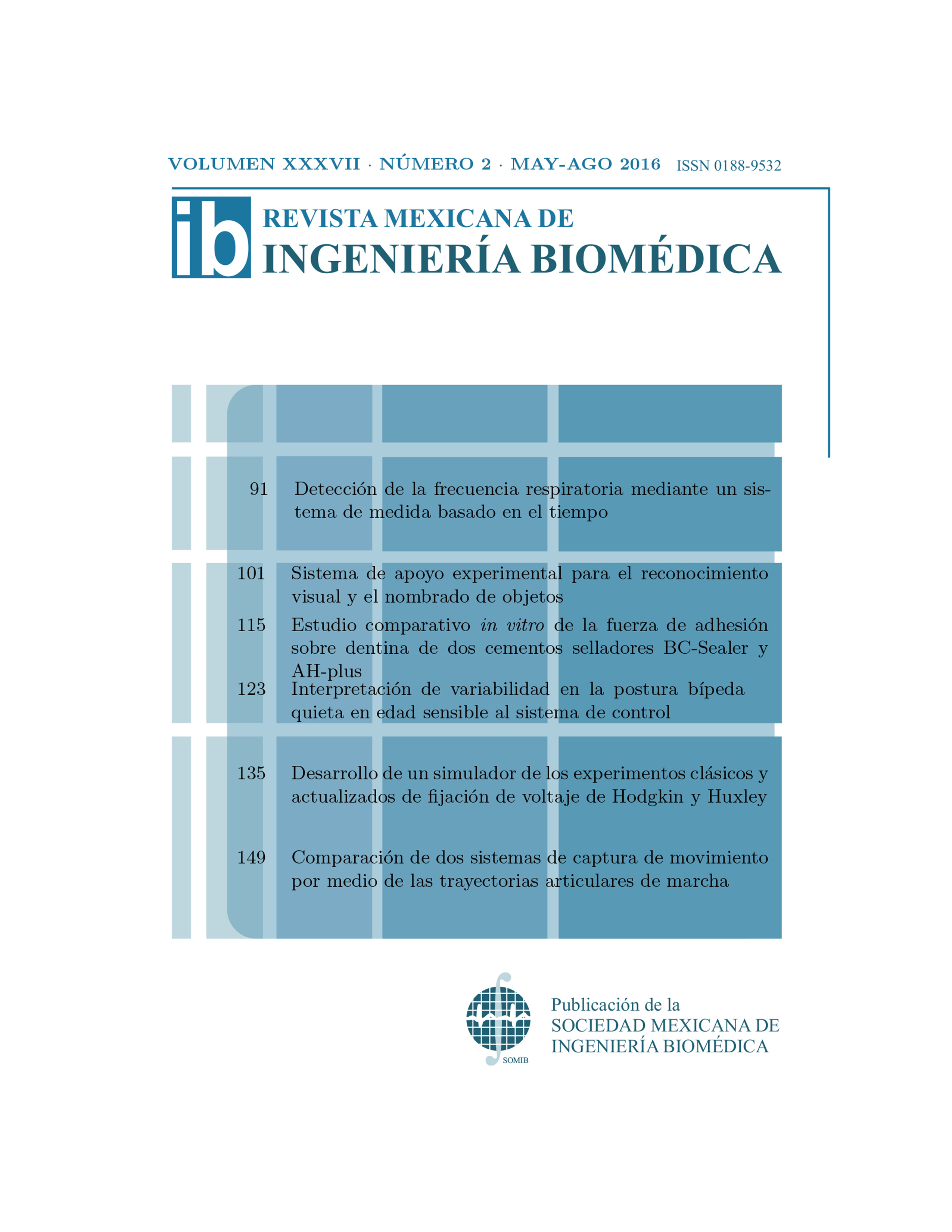 How to Cite
Carrillo Varguez, A., Santana Basoco, B. I., González Vizcarra, B., Villarreal Gómez, L. J., Jaramillo Fernández, D., Rentería Aguilera, N., & Hofmann Salcedo, M. E. (2016). Comparative in vitro study of the bond strength on dentin of two sealing cements: BC-SEALER and AH-PLUS. Mexican Journal of Biomedical Engineering, 37(2), 115-122. https://doi.org/10.17488/RMIB.37.2.6
Section
Research Articles
Copyright (c) 2016 Revista Mexicana de Ingeniería Biomédica
This work is licensed under a Creative Commons Attribution 4.0 International License.
Upon acceptance of an article in the RMIB, corresponding authors will be asked to fulfill and sign the copyright and the journal publishing agreement, which will allow the RMIB authorization to publish this document in any media without limitations and without any cost. Authors may reuse parts of the paper in other documents and reproduce part or all of it for their personal use as long as a bibliographic reference is made to the RMIB and a copy of the reference is sent. However written permission of the Publisher is required for resale or distribution outside the corresponding author institution and for all other derivative works, including compilations and translations.